Art Lessons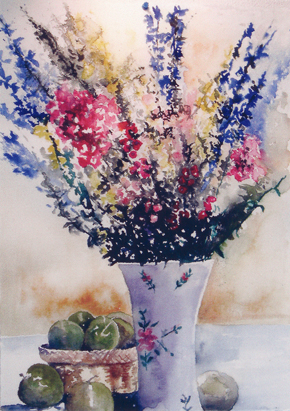 Apple Basket
Linda offers individual and group painting classes at her studio in Powell Butte, Oregon. She also offers workshops at other venues, please see details below.
Powell Butte is an inspiring, beautiful area known for clean air, good people, great ranches, and breath taking views of the Oregon Cascades.
Linda Swindle's Studio at the JL Ranch is a great place to relax, meditate and learn the beautiful art of watercolor from the artist. The studio is bright and airy with large work surfaces and plenty of natural light.
LATEST NEWS:
See below for Linda's 2019 Teaching Schedule
---
Workshops at Linda's Powell Butte Studio:
July 24 - Loosen Up! Spontaneous Watercolor on Canvas/Boards
July 25 - Spontaneous Watercolor Explorations
July 26 - Textured Watercolor
Please call for more information.
---
Workshops at Art Unraveled in Phoenix, AZ
August 4 - Get Loose! Spontaneous Watercolor
August 5 - Explorations in Spontaneous Watercolor
August 6 - Furry Friends! Spontaneous Watercolor
Please call for more information.
---
Workshop at Sitka Center for Art and Ecology, Lincoln City, OR
September 3 and 4 - Silk Painting
Please call for more information